Hey furs,
We hope you are enjoying the sunshine while it lasts! As you may or may not be aware we have gone and made a couple of changes to our meet. Firstly we now have a new logo. This is because recently we were contacted by a furry convention as our old logo looked strikingly similar to theirs. As they had their logo first we agreed to change ours. Secondly, we are now downstairs of the Resolution, this is to have better accessibility for those with limited mobility and for the safety of our beloved suiters. Lastly, we are continuing our coffee and drawing meet on the Wednesday after our traditional meet.
10th June Traditional Meet Schedule
11:30 Meet at Middlesbrough Bus Station.
12:00 Head to Resolution (downstairs at the back).
13:00 – 14:30 games and socialising
14:30 – 15:45 Fursuit walk (optional, usually at least one committee member will remain at the pub).
17:00 Meet ends at Resolution.
Location
13th June Coffee and Drawing Schedule
11:45 Meet at Middlesbrough Bus Station.
12:00 Coffee and Drawing at Off the Ground Coffee
13:30 Meet ends at Off the Ground Coffee
Location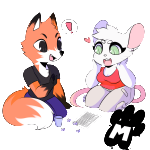 (Image was drawn by PastelClaws)