Hey furs,
We hope you are doing well and that spring has finally come! As some of you will know, we had a second micro-meet last month with a focus on drawing and coffee. Due to the success of that meet we have chosen to continue hosting them as long as interest continues. So for the month of April we have two schedules as seen below.
8th April Traditional Meet Schedule
11:30 Meet at Middlesbrough Bus Station.
12:00 Head to Resolution.
13:00 – 14:30 games and socialising
14:30 – 15:45 Fursuit walk (optional, usually at least one committee member will remain at the pub).
17:00 Meet ends at Resolution.
Location
11th April Coffee+Drawing Schedule
11:45 Meet at Middlesbrough Bus Station.
12:00 Coffee and Drawing at Off the Ground Coffee
13:30 Meet ends at Off the Ground Coffee
Location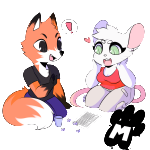 (Image was drawn by PastelClaws)