Hi furs,
As the title suggests this will be Middlesfur's last meet of the year. We do not want you to think we are going for good so be rest assured the next meet after this one will be February. You will still be able to contact the committee members as usual but December and January are a busy time and reserving a venue is hard. We do hope that you have been enjoying our meets as much as we have running them. We are always striving to improve and try new things, so any constructive advise would be appreciated. The schedule for the November meet is as follows:
11:30: Meet at Middlesbrough Bus Station.
12:00: Head to Resolution.
13:00 – 14:30 games and socialising
14:30-15:45: Fursuit walk (optional, usually at least one committee member will remain at the pub).
17:00: Meet ends at Resolution.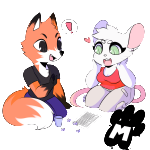 (Image was drawn by PastelClaws)