Hiya furs,
We hope you are doing well, we are as September is our 4 year anniversary!? When we started our meet 4 years ago we could never have guessed that we would have made such a great community and for that we thank you. If you have been to our anniversary meets before you will know that we have a pub quiz and this year will be no different (and yes that means we will have prizes). We are excited to celebrate our growing furmeet with you and hope you will attend. The schedule is as follows:
11:30 – Meetup at Middlesbrough bus station.
12:00 – Head over to the Resolution

13:00 to 14:00 – Pub Quiz
14:15 – Fursuit walk (weather permitting)
17:00 – Meet ends
As always we ask you to follow our Code of Conduct for the benefit of all furries attending as well as the general public.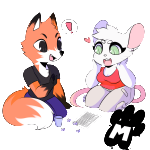 (Image was drawn by PastelClaws)